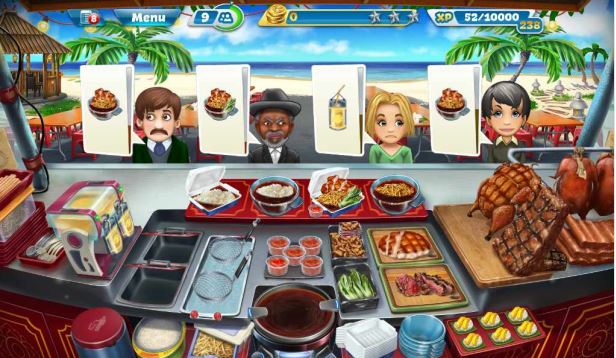 Thai Food Stall Strategy Overview
A traditional Thai Food Stall has arrived in Cooking Fever. Serve popular street food, such as crispy duck noodles, beef with rice, bags of soda and mango sticky rice
Get your very own Thai food Stall right now! Serve your customers, make a profit, improve your chef skills and become the best Food Stall owner in Cooking FeverThe Thai Food Stall is located on Paradise Island and is available for purchase for 30000 Coins and 30 Gems.
To serve customers, you'll have to chop up roasted duck, boil noodles, and stir the soup in the wok. The biggest initial challenge is the wok, which you have to stir untl a ladle appears. Until it is upgraded, the soup ladle only appears for 2 seconds. If you don't grab it in time, you'll have to stir the wok again until the soup ladle appears. Upgrade recommendations are included in the Level Guide to try to make game play a little easier.
Initially, you'll be upgrading Kitchen appliances in order to prepare food quickly enough; before Level 10, you'll need to upgrade food prices in order to pass levels with enough Coins. Upgrade recommendations can be found in the Level Guide.
Some of the Acheivement Tasks allow you to earn gems for completing tasks.
There are 3 sections to this guide:
Kitchen and Interior Upgrades
Level Guide And Strategy
Restaurant Tasks Overview
Please post any questions or tips to share with players in the Comments section below.
Kitchen Items, Upgrade Costs and Availability
| | | | | |
| --- | --- | --- | --- | --- |
| | Upgrade 1 | Upgrade 2 | Upgrade 3 | |
| Roast Duck | 3000 + 4 gems | 9000 + 10 gems | 15000 + 16 gems | Immediately |
| Cutting Board | 5000 + 6 gems | 9000 + 10 gems | 13000 + 14 gems | Immediately |
| Wok | 5000 + 6 gems | 9000 + 10 gems | 13000 + 14 gems | Immediately |
| Noodles | 2000 + 3 gems | 6000 + 7 gems | 10000 + 11 gems | Immediately |
| Noodle Cooker | 4000 + 5 gems | 6000 + 7 gems | 8000 + 9 gems | Immediately |
| Eat-In Plate | 2000 + 3 gems | 6000 + 7 gems | 10000 + 11 gems | Immediately |
| Tabletop | 2000 + 3 gems | 4000 + 5 gems | 6000 + 7 gems | Immediately |
| Soda | 2000 + 3 gems | 6000 + 7 gems | 10000 + 11 gems | Immediately |
| Soda Dispenser | 4000 + 5 gems | 6000 + 7 gems | 8000 + 9 gems | Immediately |
| Bok Choy | 1000 + 2 gems | 3000 + 4 gems | 5000 + 6 gems | Level 3 |
| Roasted Garlic | 8000 | 13000 + 2 gems | 18000 + 2 gems | Level 7 |
| Roast Beef | 3000 + 4 gems | 9000 + 10 gems | 15000 + 16 gems | Level 12 |
| Take-Away Plate | 2000 + 3 gems | 6000 + 7 gems | 10000 + 11 gems | Level 17 |
| Rice | 2000 + 3 gems | 6000 + 7 gems | 10000 + 11 gems | Level 22 |
| Rice Cooker | 4000 + 5 gems | 6000 + 7 gems | 8000 + 9 gems | Level 22 |
| Chili Sauce | 1000 + 2 gems | 3000 + 4 gems | * | Level 25 |
| Mango Sticky Rice | 0 | 11 gems | * | Level 29 |
Interior Items and Upgrade Costs


| | | | | | | | | |
| --- | --- | --- | --- | --- | --- | --- | --- | --- |
| Interior Item | Quantity | Upgrade 1 | Upgrade 2 | Upgrade 3 | Extra Clients | Customer Waiting Time | Tip Amount Increase | |
| Table | 2 | 3000 + 3 gems | 6000 + 6 gems | 9000 + 9 gems | * | * | x | * |
| Flags | 1 | 3000 + 3 gems | 6000 + 6 gems | * | * | x | * | * |
| Roof | 1 | 3000 + 3 gems | 6000 + 6 gems | * | * | x | * | * |
| Palm | 2 | 2000 + 2 gems | 5000 + 5 gems | * | * | * | * | x |
| Lounge Chairs | 1 | 3000 + 3 gems | 6000 + 6 gems | * | * | x | * | * |
| Gazebo | 1 | 1000 + 10 gems | * | * | x | * | * | * |
| Logo | 1 | 2000 + 2 gems | 5000 + 5 gems | * | * | * | * | x |
| Lights | 1 | 5000 | 10000 + 2 gems | 15000 + 2 gems | * | * | * | x |
| Menu | 1 | 2000 + 2 gems | 5000 + 5 gems | * | * | * | * | x |
Next Page: Level Guide for each of Cooking Fever – Thai Food Stall's 40 levels